Winnie Brave | Americana Roots Duo
What is Freshly Pressed?
Remember in the good old days when Artist Fan Clubs were a thing? Where, for a small fee, you could be a part of a community, be sent an exclusive gift every month and have early access to new content/pre-sales/insider info. In a nutshell, that's what Freshly Pressed is all about.

We've teamed up with Patreon and for less than the cost of a Netflix subscription, you will receive at least one brand new Winnie Brave song every month, plus a previously released bonus track from our catalogue (maybe from The Gnomes, Hey Amy - vintage stuff guys, vintage!). Every now and then we'll throw in something different just for fun (perhaps a cover tune, video from the road, exclusive pre-sales etc.).

The reason we've decided to launch this is quite simple. We want to connect directly with you — the fine folks that buy our albums, come to our shows, wear our t-shirts and push us to keep doing what we love to do. We'd love to hear what you think as we create new material. Oh, and there's a free download of our brand new single (from our brand-new album) just for signing up. #perks

We hope you'll join us for the journey. Click the red button below if you're interested.
And thanks for supporting this travelin' family band.
​A&B xo

---
Powered by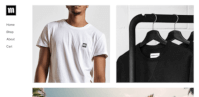 Create your own unique website with customizable templates.